---
Stewart J Rowe
Founder, Managing Director
Stewart is the founder and managing director of Shadowfax Sdn Bhd and is a well-known figure in the printing industry.
Through his dedication and leadership, Stewart has carved out the direction that has led to Shadowfax Sdn Bhd, achievements and accomplishments in the last six years.
---
Peter Bitto
Technical Director
Peter has through many years of academic training and industry experience has acquired a wide range of skills in the area of product development and formulation as well as market application and market development. He plays an important and crucial role in the technical aspects and development of Shadowfax Sdn Bhd.
---
Tina Lim
Financial Director
Ms. Lim has been with Shadowfax Sdn Bhd since 2015. She has thirty years' experience in the finance practise in the printing industry. Whilst she was employed at DS Chemport (M) Sdn Bhd she undertook various assignments in the area of strategic planning and corporate budgeting financial report project(s) as well as other finance related matters.
---
Gary Marks
Sr. Manager, IT & Factory Operations
Gary's career began in the advertising industry where his career spanned over a period of fifteen years, where he handled the technical aspects of all event management productions. He then left to join DS Chemport in 2000 as an IT Manager for duration of three years. Whilst he was still at DS Chemport he was transferred to the production department as a Production Manager. He was based there for six years until the production department was transferred to Singapore. He then left to pursue other endeavours. He joined Shadowfax in 2010 and manages the IT and Factory Operations which covers all aspects of packaging, labelling, blanket converting and all other factory operations.
---
Bronson Low
R&D Chemist
Graduating with a B Sc. in Applied Chemistry and M Sc. in Analytical Chemistry & Analytical Instruments he joined Shadowfax in 2010 where his role as an R&D Chemist is to oversee the technical and chemical related aspects. He is also tasked to maintain the quality, to improve, and to formulate products that cater to our client's requirements.
---
Yan Jenn Yeong
Technical Support Manager
Jenn Yeong is a veteran in the printing industry. He started out in 1978 as a printer, before moving up to become a Printing Instructor and Mechanical Engineer in 1994. From then on, with more hands-on experience under his belt, he was promoted to the position of a Technical Print Support, a position he held until 2005, before joining Shadowfax. He's the go to man when it comes to trouble shooting for printing presses.
---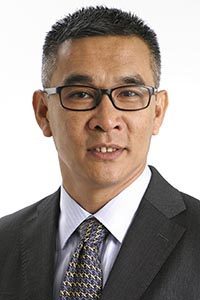 Wong Hui Yuan
Branch Manager (Penang)
Hui Yuan started work in the printing industry back in 1992, at EAC as technician, later worked his way up to printing instructor, before joining the sales team in Heidelberg in 1995, as EAC had then changed to Heidelberg. He then left to join Shadowfax as Penang Branch Manager in 2012.
---
Hemant Rajulwala
Sales and Marketing Manager – India Branch
Hemant is our appointed Sales and Marketing Manager for India. A graduate of Mumbai University and with 21 years' experience in the printing industry in India, Hemant's main goal is to establish the brand of Shadowfax and increase its growth in the Indian market.
---