There are many types of Aqueous Coatings ranging from high gloss to matt coatings. There are also specialty coatings for water and grease resistance to mirror gloss calendering. Then there are coatings to run in-line, off-line and for flexography applications to sheetfed duct applications. Some coatings have FDA and RoHS approved certificates. Supplied viscosity range of 40-60 DIN #4 cup at 30°C. Can be used for both in-line or off-line coaters. Packing size available in 25kgs, 120kgs and 1000kgs. Packing size for Duct Emulsion in 5kgs
---
AC500 CREST Coat 500
A user friendly and workhorse OPV. Accepted gloss and rub.
---
AC501 CREST Coat Matt 501
A good matt OPV.
---
AC503 CREST Coat 503
A reliable OPV with standard gloss and rub.
---
AC504 CREST Rub 504
Formulated with better rub and accepted gloss.
---
AC505 CREST Coat Satin 505
A satin finished OPV.
---
AC508 CREST Coat Primer 508
A special prime OPV, suitable for in-line and off-line. Suitable for flexo presses. Perform well on thin specialty papers for sweets, chewing gum, etc.
---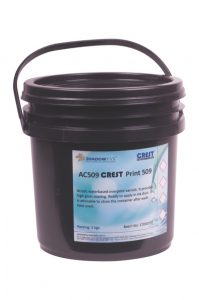 AC509 CREST Print 509
A duct emulsion gloss varnish, formulated to run on a sheetfed with duct. Acceptable gloss and quick drying aqueous coatings.
---
AC510 CREST Print 510 Matt
A duct emulsion matt varnish, formulated to run on a sheetfed ink duct. A good matt finish.
---
AC511 CREST Coat DF 511
An OPV formulated for deep freeze packaging. With anti-freeze properties (down to -12°C). Acts as a good water barrier.
---
AC515 CREST Coat Playing Card 515
 An OPV for all types of playing cards. Static slip readings are as low as 0.15 (coefficient of friction). Can tailor-make the slip requirement.
---
AC517 CREST Anti-Mold 517
Anti-mold OPV, suitable for soap wrappers or any type of packaging that need anti-mold requirements.
---
AC525 CREST Coat 37
An all round OPV providing acceptable gloss and good rub/scruff resistance. Highly transparent and has good printability.
---
AC526 CREST Coat 38
This OPV has heat resistant properties and is suitable for hot stamping or lamination process. Acceptable rub and gloss.
---
AC527 CREST Coat 39
This product is a high rub and high gloss OPV for packaging printers. Has all the requirements needed in coating for board or paper packaging. A super product, user friendly.
---
AC528 CREST Coat 99
An all round economical OPV. Good printability and is highly transparent film and is lightfast.
---
AC531 CREST Coat Calendering M
A reliable calendering OPV which provide a transparent, high gloss, mirror image finish. This product has excellent heat release properties.
---
AC538 CREST Coat Blister Pack
This product is a waterborne emulsion as a heat sealable overprint for paperboard and aluminium foil application. Excellent bonding strength to PVC, PET, PETG and PETA plastics.
---
---
Additives for AQUEOUS COATINGS
---
SC109 CREST Anoflex Cleanser
Wash up solution for aqueous coatings.
---
SC113 CREST Suppressant Solution
Apply on rollers and blankets during stoppage of press to avoid duct emulsion from drying on the rollers and blankets.
---
SC114 CREST Defoam
To reduce foaming in the aqueous coatings.
---
SC121 CREST Cleanser D10
Special cleanser for direct aqueous coatings.
---