The product in this range, formulated to run at 2-3% concentration on all types of dampening systems. Packing size available in 25kgs, 200kgs and 1000kgs.
---
DP300 CREST Fount N
An excellent fountain solution suitable for all conditions. Suitable with coated papers and boards.
---
DP305 CREST Fount Econ
An economical fountain suitable for all types of dampening systems.
---
DP306 CREST Fount M
Suitable when printing with metallic inks.
---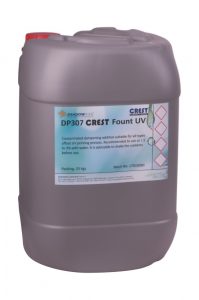 DP307 CREST Fount UV
Fountain for UV printing.
---
DP311 CREST Fount 800A
Fountain suitable for computer form printing. Provides optimum printing performance.
---
DP319 CREST Fount N 2011
Fountain for high speed presses. Suitable to run alcohol free or reduced alcohol percentage.
---
DP323 CREST Fount Zero Plus
A reliable fountain solution. Possible to run alcohol free on all types of sheetfed presses.
---